Sonic Space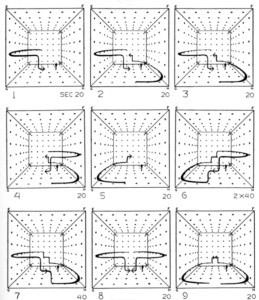 Image: Bernhard Leitner
Sonic Spaces are lesser known as an independent field than spatial sound and more of the actualized environment that is generated by the design of a space with sound as a key spatial parameter. Designs similar to those of Stockhausen's dating back to the 1600's, most prominent amongst these are projects are by the 17th-century philosopher and polymath Athanasius Kircher. In Kircher's design for a museum (Kircher, Musurgia Universalis), statues would appear to be speaking by means of directing and altering the sounds from adjacent spaces (both interior and exterior) funneled to the statues' mouths. Other rooms utilized architectural acoustics techniques to bounce the collected sounds off an arched ceiling and towards the statue's bust.
An additional design took a more active approach in comparison to the ambient nature of the last project. In Kircher's Organ (Kircher, Musurgia Universalis) we can see the space being used as an instrument, though different from the instrumental examples we covered in the previous section. The architectural space is integrated with a complex mechanical water-powered, barrel-operated pipe organ, innovative and novel for its time.
Sound Amplifier by Athanasius Kircher (1647) and Organ by Athanasius Kircher (1646)
The Philips Pavilion is a very influential example of a sonic space, which integrates spatial sound in an architectural setting. As previously mentioned in Edgard Varèse's Poème électronique, the pavilion itself was instrumental in both the design of a musical composition and the relationship to the architecture's characteristics. The structure was influenced by the graphic notation of Xenakis' Metastasis (1954) acting as an embodiment of the music itself and was developed for the performance of Varèse's spatial composition as well as Iannis Xenakis' musique concrete composition Concrete PH. This is one of the most important examples of archimusic and will be described in more detail in a following section.
Philips Pavilion by Iannis Xenakis & Le Corbusier (1958)
Stockhausen's spatial compositions and his designs for purpose-built architectures for the performance of new compositions can be seen and appreciated in the West German Pavilion at the 1970 World Expo in Osaka Japan. Inside a geodesic dome designed by the German architect Fritz Bornemann, Stockhausen spaced 50 groups of loudspeakers within the sphere, including below a suspended floor. The spherical space completely surrounded the 550-person audience and enabled them to experience the three-dimensional spatial compositions of Spiral and Short-Wave Receiver. As Forsyth points out, Stockhausen used a "special designed rotary sound mill" (Forsyth), which had electronic contacts that when connected distributed the sounds from one speaker to another, allowing the audience to experience the sound rotating and spinning in horizontal, vertical, diagonal, clockwise, counterclockwise and spiral formations. This allowed, "Multiple sound sources could be made to swirl along arbitrary trajectories, intersecting and interweaving each other" (Cott). "The conductor-composer controlled the audience's experience by turning knobs rather than by moving a baton" (B. a. R. Blesser). This one of a kind experience created polyphonic layers of sound specifically placed to create sonic forms. Multi-track tape compositions from Bernd Alois Zimmermann and Boris Blacher were also performed within the space during the six-month exhibition.    
German Pavilion World Expo by Stockhausen (1970)
Iannis Xenakis illustrated a similar approach at the 1970 World Expo in Osaka Japan, though this would be exhibited in the Japanese Steel Federations Pavilion. Here Xenakis "utilized 800 loudspeakers grouped into 150 independent groups and positioned through the air and in the ground" (I. Xenakis, Formalized Music) throughout the space using his developed methods of stochastic. Xenakis' composition Hibiki Hana Ma was spatialized using the 12-channels to creating intricate sonic shapes amongst the audience.
Sven Sterken notes in his essay Music as an Art of Space, that Xenakis' interests in the relationships between space and sound, which he had been exploring for nearly 20 years at this point were still focused and deliberately connected to the field of architecture. "Assuming that the ear can provide us with spatial orientation just as much as the eye," Xenakis argues, that these manifold loudspeakers should be considered as geometric points, and that by consequence "all that is true for Euclidian space can be transposed into acoustic space." Consequently, abstract morphological sound patterns such as geometric shapes and surfaces can be articulated in space and recognized by the ear. Sound is not only a carrier of musical expression, but also a means to expand the boundaries of architecture through the creation of immaterial and dynamic spaces. In other words, in Xenakis' perspective, the acoustic grid was not only a highly sophisticated sound projection system but a device to generate ephemeral architectures and virtual spaces." Sterken continues this thought by stating, "Besides being a means to explore or create spaces, the dispersion of musicians and sound sources also has to do with Xenakis' philosophical views on music. One of the implications of this technique is that the audience no longer hears one single, homogenous sound; everyone literally hears the music from a different angle" (Serken, Music as an art of space). As Xenakis has suggested, "this mode of listening somehow resembles the way one perceives a building" (Varga).
Japanese Steel Federation Pavilion by Kunio Maekawa, where Iannis Xenakis Hibiki Hana Ma was performed (1970) and Pepsi Pavilion by E.A.T. (1970)
The 1970 World Expo in Osaka Japan was a focal point for the exploration of new spaces designed for music and music composed for spaces, especially using electroacoustic technology under the theme of Progress and Harmony for Mankind. Barry Blesser describes the Pepsi-Cola pavilion, describing how it was "was configured as an electronic space that could take on the different personalities of the composer. It used 37 loudspeakers and 8 signal-processing channels, which provided amplitude modulation, frequency modulation, and spectral filtering. The music source was a combination of 16 monophonic tape-recorded channels and 16 microphones for live performers. Electronics were changing, creating, and projecting sounds into the space" (B. a. R. Blesser).
Bernhard Leitner is a sound artist and composer that has explored the relationship of sonic spaces and has "pioneered in the conceptual area where architecture, space, and sound come together" (GOLLER). Perhaps one of the best examples of his works is Le Cylindre Sonore in the Parc De Villette in Paris. This double-walled concrete cylindrical form is placed within the natural setting of a bamboo grove with bi-lateral access. Once inside there are eight sound columns embedded within the 15' high walls of the form, each of which has three speakers. Visitors can sit or wander and experience the meditative drone-like atmospheric soundscape resonating within the walls of the chamber.
Le Cylindre Sonore by Bernhard Leitner (1987)
Leitner's Le Cylindre Sonore is not alone in its home within the Parc de la Villette. In fact, the Parc de la Villette is home to a number of archimusical projects that we have described in the past few sections. These include Bernard Tschumi's follies, which were designed in dialogue with John Cage's graphic score for Fontana Mix and Xenakis and Jean-Louis Véret's design for the Cité de la Musique, which was never realized, but would have expanded the conversation of architecture and music greatly had it been.
Other works by Leitner illustrate similar interests of Stockhausen's West-German pavilion where the regular layout of sound sources enable sounds to travel and create virtual paths around the user. One example is Soundcube (1969 and 1970) (Leitner), which was a cube with many sound sources that would allow the sound to travel, sequentially creating many paths guiding the visitor's curiosity.